Why do you need to know these daily trading secrets? Every day markets offer a lot of opportunities to generate profits. However, only a small minority manage to do it daily.
What is this 'minority' doing that the rest of the market isn't? Perhaps you are using the best methods and resources, which are not as well known. Fortunately, the daily trading secrets set out below can reveal some of those priceless tricks.
1. Knowing is Power
With instant communication, an event on the other side of the world can quickly affect markets. As a result, having access to reliable news sources is very necessary. Some resources go beyond reporting on the latest news, they also offer insight and some comments on operations. All these elements can improve your ability to predict the future movement of prices.
Therefore, one of the best kept secrets of daily transactions is Financial Juice . Once you have registered for a free user account, you can listen to the news live and direct. You should keep up to date with events that can affect your market directly and effortlessly. All this makes knowledge one of the best daily trading secrets to keep in mind.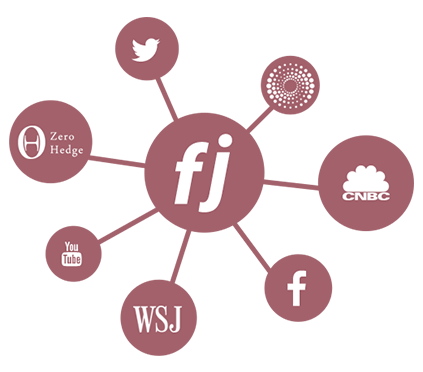 On the other hand, if you are looking for additional comments and opinions, you may want to consider other options currently available:
Ransquawk

Trade the News

Benzinga Pro.
These three options offer high quality financial analysis that can help reduce your research times. Unlike Financial Juice, these have a cost. However, you can sign up for a free trial to see which one is right for you.
So, if you want to assert and maintain an advantage over the rest of the market, use Financial Juice or one of the other options listed above.
2. Economic Calendars
The following of our daily trading secrets is a tool that traders often overlook; An economic calendar. They simply track the succession of events that move the market. When used correctly, it can help anticipate and organize a plan for a future occasion.
These calendars break down key events, including:
Interest Rate Decisions

Nonfarm Payroll Numbers

GDP announcements

Consumer Price Index (CPI)

Purchasing Managers Index (PMI)
An economic calendar will also promote discipline and organization, two extremely important qualities that traders must develop. They can be used as a price alert tool. Its easy use allows traders to follow every economic event in the world in real time. This being the case, customized alert systems can be developed. The calendar has country and relevance filters. In addition, you are not required to log in or give any personal information, not to mention that it is completely free.
3. Enhanced Analysis
Having your technical analysis is essential to improve your trading activity and your daily trading. This is why it is vital to have powerful graphics and tools at your disposal. It is also one of the reasons why in this list of 7 secrets for the success of daily trading, eSignal deserves a special mention.
While the standard graphics obtained from your broker will serve you for a while, eSignal is the place to go when you're ready to update. It has the ability to draw and write custom formulas. Once the custom scripts have been installed, they can be used as indicators for investments and for drawing support / resistance lines. eSignal also works smoothly, allowing you to load graphics on numerous monitors without any delay.
In addition, financial media and social integration functions allow you to instantly connect to information and experienced traders. Bouncing ideas from other traders can be an effective way to perfect an advanced daily scalping strategy, for example.
If you are looking for the inside track, the NinjaTrader graphics software is another relatively unknown transactional secret. NinjaTrader has everything from order entry to execution. But what differs from the rest is customization. Not to mention the integration of third-party libraries that makes more than 300 complementary products compatible.
Because it has more than 100 technical indicators and advanced graphics creation capabilities, it is positioned in a better place to interpret and react to market data than other softwares. The only drawback is that, unlike many of the above secrets, NinjaTrader is not free. However, it remains a sensible option.

4. Practice makes Perfection
To obtain a benefit from price fluctuations rather than knowledge, practice is required. Too many people lose their hard earned capital because of those mistakes that had been foreseen in a demo account. Simulation accounts are the perfect place to familiarize yourself with market conditions and perfect a strategy.
In fact, one of the best secrets of daily success is first to execute prospective strategies through a simulator account. Financed with virtual money, you can identify failures and improve your technique until you generate consistent profits. Then you can apply it to a real account. These simulation accounts, by themselves, are not one of the best daily trading secrets; The secret is to use the Oanda practice account .
Registration is fast and hassle free. It comes without fees and can be used for unlimited time. This ensures that you do not have to risk your own capital until you feel safe. You can also choose between the popular MetaTrader 4 platform or your own platform. In addition, you can access your demo account through a mobile application.
But one of the best selling points is access to its advanced feature of 'Autochartist'. This allows you to build and improve a strategy using highly sophisticated tools and technical analysis. All this means that the Oanda demo accounts must include the trade secrets revealed in PDF every day.
5. Trading Agenda
Many merchants care about the quantity and forget to sit down and observe the quality of their operations. Ignore the need to find out where and why they go wrong. This is the reason why in the secrets of daily transactions with stocks or any other instrument, an agenda with TradeBench should be kept at the top.
TradeBench is a totally free online trading agenda. You can plan operations, position sizes and it comes with a risk management software. The most important thing is that it keeps a detailed record of the previous operations, which include:
Entry and exit points

Trading data

Opening and closing time

Position size

Lost profit
This allows you to look back and identify flaws in your strategy. You can continuously improve by following this system, while others will continue to make the same mistakes.
You could say that any PDF file of trading secrets, opening an agenda with TradeBench should have a prominent place in the list.
6. Stay Neutral
It's just lunchtime and you just lost $ 500 in an exchange. Now he is doubting his carefully formulated plan. On the other hand, when it is significantly up, maintaining that winning position seems to be the right thing, regardless of your strategy.
But as the successful trader Victor Sperandeo correctly stated, " The key to the success of trading is emotional discipline. If intelligence were the key, there would be many more people making money . " Developing a discipline similar to that of a monk is not one of the 7 most important secrets to daily success. Instead, the secret is knowing how to develop that emotional discipline.
For this, it is necessary to adopt a very limited approach and follow all the steps indicated below:
Stops

: You must respect your stops.

They force you to take a minute and focus on where and why you were wrong.

Consistency: you

should outline your strategy at the beginning and follow it later.

Trust your research and data.

Start small:

focus on big profits and forget about the idea of ​​following the pattern.

In the long term, taking smaller positions will give you greater control.

Then, you can gradually increase the size of your position as your confidence grows.

Lifestyle: you

must find a plan that fits your lifestyle.

Seeing 50 graphics when you only have time for 5 is a guaranteed way to waste time and stress.

Instead, focus on a few but good good opportunities will benefit you.

Reduce information: it

is very easy to get entangled in large volumes of microdata.

Breathe for a minute and concentrate your energy on the overall image.

Realistic goals:

this is one of the best trading secrets.

Unrealistic profit goals will quickly lead to reckless decision making.

Set small and realistic goals, especially to get started.

Reduce losses:

passing the autopilot and leaving is essential when threatened with large losses.

Then, prepare yourself mentally and visualize that emergency exit.

As Bruce Kovner noted, »

if you customize losses, you cannot operate

.»

Learn from the best:

buy books on discipline development.

The Disciplined Trader by Mark Douglas is an excellent read to start.

Trust yourself:

although chat rooms and forums can be useful, don't get too influenced.

If you spend a lot of time on these sites, you will quickly doubt your strategy when your capital is online.

General image:

correct your bad habits and practice building that willpower in all aspects of life.

This way you will see that staying neutral when operating is much easier.
7. Automation
Once you have an effective and constant strategy, automation can be used to improve your returns. This is because you can only perform a certain number of operations manually each day. An algorithm can execute a large number of operations as soon as the predetermined criteria have been met.
In the world of automation, AlgoTrader is one of the best kept secrets. It was designed by industry experts and gives you maximum control of automated, high-speed, fact-based systems.
The system is exceptionally fast, processes up to 500,000 events per second. The open source architecture also allows substantial customization. Third-party libraries can be integrated and integrated features help reduce costs, increasing your profit margin.
Integrated features include, but are not limited to:
Execution Algorithms

Price engine option

Historical data download

Excel-based back-back test reports

Automated parameter optimization
Reliability, support and wide range of features distinguish it from most of the offers currently available. All this means that if we had 15 daily trading secrets for success, AlgoTrader would be on top.
9. Conclusion
Even with the previous intraday trading secrets, generating consistent earnings is not a simple task. While some tools work well for others, they cannot leave others better. The trick is to find the secrets mentioned above for the day that complement your individual negotiation style.